How you can plan a trip to Dalhousie
Himachal Pradesh is famous for its epic beauty and scenery – high up in the Himalayas, the entire state is a feast for the senses. However, Dalhousie remarkably comes on top of an already spectacular state, which boasts places like Kinnaur Valley, Rohtang Pass and Lahaul and Spiti Valley.
This tiny hill station in the Chamba district is a dream come true for any traveler who wants to rediscover what the words peace and serenity mean. With dense, mystical woods of pine and Deodar trees and snow-capped peaks this place is temptingly isolated and at the same time within reach! Visit India's very own Switzerland for your own unique experience!
Dalhousie defines the word sleepy in every sense. This is a town that is literally living in the past – from the British Era hangover with its old world charm of the high street and pony rides to thick forests of Deodar and pines which shelter the town. This is an ideal location for people who enjoy the sound of silence and want nothing more than to soak in the beauty of nature in a serene atmosphere.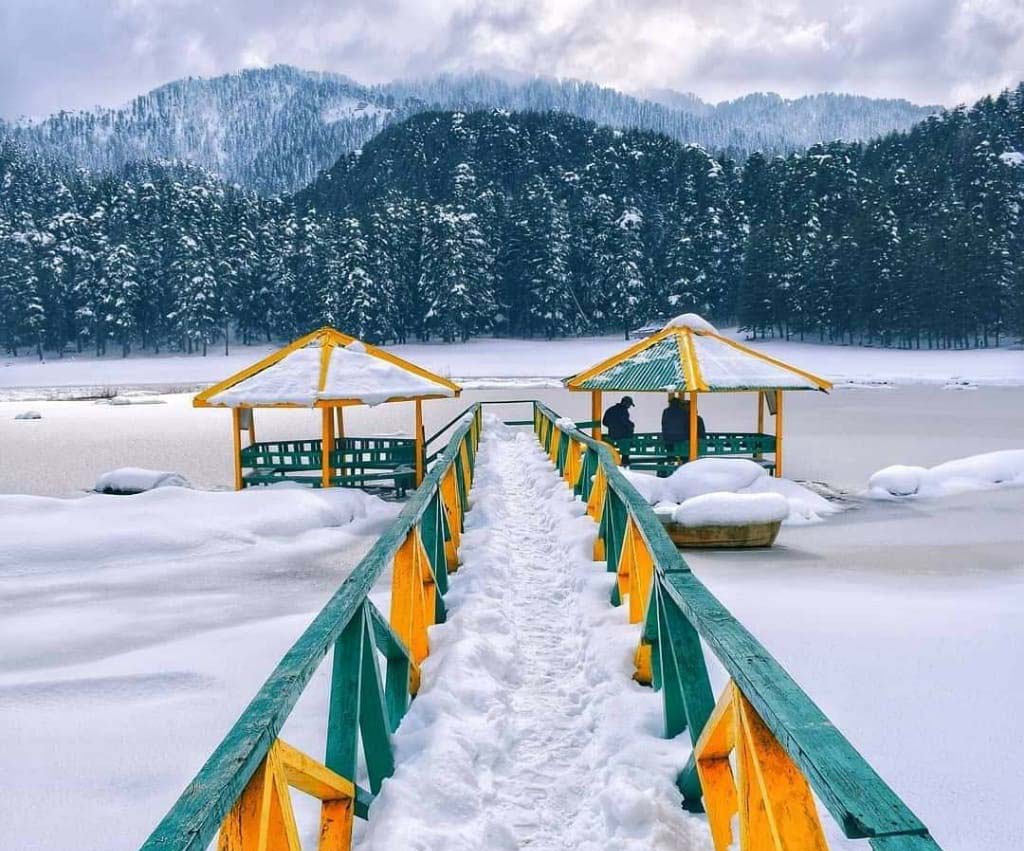 In this post, I will talk about how you can plan a trip to Dalhousie including details like how to reach there, different modes of available transport, what to see, where to stay and how much it will cost you. Towards the end of the article, I will also provide a sample of an itinerary that you can follow for your trip.
Below is an index of the information that I have covered later in the article. The headings in the box are all clickable links. So if you want to jump directly to a certain part of the article, you may do so by clicking on the header inside the box.
How to reach Dalhousie
---
Where is Dalhousie Located?
Dalhousie is located in the Chamba district of Himachal Pradesh in north India. The modern town has been built on five hills. Bang opposite is the majestic Pir Panjal range of the Himalayas, stark and snow-capped, so close that you can reach out and almost brush them. It is at a distance of 85 kilometers from Pathankot, 172 kilometers from Jammu and 560 kilometers from Delhi.
How to reach Dalhousie by Road?
Due to its location in the hills, reaching Dalhousie by road is the only choice. There is no train station or airport in Dalhousie so there will definitely be some amount of road journey involved. The good news, however, is that the nearby town of Pathankot is very well connected by both train and flights from where you can easily find a mode of commute for your final part of the journey.
Dalhousie is very well connected by road and getting there will not be any trouble at all. I will begin by first explaining the route you will follow if you were traveling by your own vehicle, either a car or a motorcycle. For the sake of this article, I will assume that you were starting your journey from Delhi. However, even if you were coming from a different place, the information below will still at least give you an idea on the route you can follow for driving to Dalhousie.
How to reach Dalhousie from Delhi
Starting from Delhi, route of your journey will be as mentioned below.
Delhi – Panipat – Karnal – Kurukshetra – Ambala – Rajpura –  Ludhiana – Phagwara – Jalandhar – Pathankot – Dalhousie
Traveling this way, your total journey will be of about 560 kilometers. There can be a few other variations to the route but the one I suggested above is probably the shortest and quickest one. Even if you were coming from Chandigarh, Ludhiana, Pathankot or Amritsar, the same route will still apply.
Delhi to Dalhousie Travel Time
Traveling the way I suggested above, it will take you about 10 to 11 hours to reach Dalhousie. I started from my home in Delhi at around 5.30 AM by my Thar and I reached by 4 PM.
Dalhousie Road Conditions
Condition of the road is super smooth all the way and that is why the travel time is not too high. Until Pathankot, it is a super smooth highway but has a lot of tolls on it. I think you will pay about Rs. 500 in toll fee between Delhi and Pathankot. The good part is that the road is very well maintained and you can easily maintain a constant speed. After Pathankot too, the road turns into a single lane one but remains to be in a good condition all the way.
Best Vehicle for Dalhousie Trip
You do not need a high powered vehicle to get to Dalhousie. As long as your car or motorcycle is well maintained, you can make the trip even by a Maruti 800 or a 100 CC motorcycle.
How to reach Dalhousie by Bus
Being a major tourist destination, there are plenty of buses to Dalhousie from almost every major city. If you were planning to travel from Delhi by Bus then you can easily find one ISBT Kashmere Gate. Other nearby towns like Chamba, Dharamshala, Mcleodganj, and Shimla are also well-connected to Dalhousie. A mix of ordinary and semi-deluxe buses is provided by both Himachal Road Transport and Haryana Road Transport Corporations. You can also find luxury sleeper, semi-sleeper, and Volvo buses operated by private travel companies.
Himachal Roadways Bus Booking
For private companies, you can either buy one via the travel agency itself or online sites like RedBus.
Listed below are some buses out of Dalhousie for your return journey.
Dalhousie to Chamba Bus via Banikhet. Departure at 7am, 7.30am, 7.45am, 9am, 10.30am, 11.15am daily. Fare per person Rs. 80. Travel time of about 3 hours.
Dalhousie to Chamba Bus via Khajjiar. Departure at 9am, 9.30am, 4.30pm. Fare per person Rs. 80. Travel time of about 3 hours.
Dalhousie to Delhi Bus. Departure at 2.55pm, 6.30pm, 7.40pm daily. Fare per person is Rs. between Rs. 500 – 1400. Travel time of 14 hours.
Dalhousie to Dharamshala Bus. Departure at 7.15am, 11.50am, 1.20pm, 2pm. Travel time of 2 hour and fare per person is Rs. 230.
Dalhousie to Pathankot Bus. Several buses throught the day. Fare of Rs. 100 per person and travel time of 3 hours.
How to reach Dalhousie by Flight
The nearest airport is Pathankot Airport, 75 kilometers away from Dalhousie. This airport operates commercial flights, private chartered flights and provides helicopter landing pads. However, it only operates flights to New Delhi. The second one is Gaggal Airport nearby in Kangra district. This airport is connected to domestic and international locations. A private taxi from Gaggal to Dalhousie can cost up to Rs. 3000 in peak season. You can also board a direct bus from Gaggal to Dalhousie which will cost you about Rs. 150 per person.
How to reach Dalhousie by Train
This is the most convenient and cost-effective method to reach Dalhousie. Nearest railway station to Dalhousie is Pathankot Railway Station which is about 71 kilometers away. You can take deluxe, super fast and express trains to every station in India.
How to reach Dalhousie from Pathankot
Once you have reached Pathankot by either train or flight, you will majorly have two choices to get to Dalhousie from there. The first one is to rent a private taxi which will cost you about Rs. 1500 – 2000 or above, depending on your negotiation skills and the cab you chose. Second and a cost effective way is to board a Bus which you can easily find from Maharana Pratap Inter State Bus Terminal; which is about 500 metres from Pathankot Railway Station. HRTC operates several buses from here for Dalhousie and fare person is about Rs. 100. You can call the Bus terminal at 0186-2220088 to inquire about exact timings.
Local Transport in Dalhousie
Private Taxis: These typically charge Rs. 2500 per person for the Pathankot-Dalhousie journey.
Self Driving: This will be the most convenient way to move around. Do note though that the internal roads in Dalhousie and towards Khajjiar are a bit narrow so be sure to know how to handle a car in the hills before you decide to drive on your own.
Private Car: For a full day of sightseeing, it is wise to book a private car. The cost will depend on how far you plan to travel and can range from Rs. 1500 to Rs. 3000. At the day end, they will drop you where you wish.
Walk: The Dalhousie town proper is best explored on foot. Take your time and enjoy the picturesque beauty of this hill station on long walks.
Horse Ride: Some areas on the Mall Road offer horses for short distances.
There are taxi stands in Dalhousie right next to the bus stand and at both Subhash Chowk and Gandhi Chowk. Renting a taxi for moving within town will cost Rs. 100 to Rs.150. If you want to rent a cab for out of town, it will cost you Rs.1800 for Chamba via Kajjiar, Rs. 3200 to Dharamsala and Rs. 1050 return to Dainkund.
There are also local buses to Kangra, Dharamsala, Khajjiar and Chamba from Dalhousie Bus stand.
How to reach Dalhousie in Winter
All of the above information remains applicable in both summer and winter. Dalhousie remains open throughout the year and you should not have any problem reaching here irrespective of the month of your visit. Moving to Khajjiar in peak winter however may become a problem because the connecting road between Dalhousie and Khajjiar can get blocked by snow at this time.
What to See in Dalhousie
Subhash Baoli
St. John Church
Rock Garden
Garam Sadak
Khajjiar
Panchpula
Sach Pass
Dainkund Peak
Chamera Lake
Satdhara Falls
Mall Road
Laxmi Narayan Temple
Bara Pathar
Bakrota Hills
Ganji Pahari
Chamba Town
Kalatop Wildlife Sanctuary
Rang Mahal
What to Do in Dalhousie
Photography
Star Gazing
Trekking & Camping
Motorcycling
Paragliding
Rock Climbing
Boating
Shopping
Take a stroll through the Tibetan market.
Enjoy long peaceful walks and savor on the natural beauty around you.
Have a bonfire and enjoy pleasant nights sitting around a fire.
Enjoy a pony ride in Khajjiar
Weather of Dalhousie
---
Dalhousie retains a cool and pleasant climate throughout the year with misty mornings and evenings, bright sunny days and clear skies. Owing to its elevation, it is considerably cooler than the surrounding plains. Even in the spring, the climate can be downright chilly at nights. The monsoon months, however, tend to be incredibly wet and humid. The skies remain cloudy and it may rain for days on end.
The months of January and February are truly the months of white and it can snow here any time in these months. Chances of snowfall are however more in January than February. Snow starts to melt in March and is mostly all gone by the end of the month. Spring arrives towards late March and the following three months of April, May and June are considered to be the best time to visit Dalhousie. Weather in these months is at its best with warm days and pleasant nights.
Monsoon arrives in July and even though it doesn't rain much in Dalhousie, it still would be wise to avoid traveling at this time. Ran can definitely pour down any minute and ruin your plans. With that being said, the scenery is at its best in both of these months with lush green carpets of grass all around. September is when the monsoon departs and the region sees quite a bit of tourists due to pleasant weather again. Autumn arrives in October and what once was green in September now turns golden orange giving a magical look to the valleys around. November is when the winter season starts again turning the vistas dull and dry making it a not so good time to visit. The temperature continues to drop and after December 15th, it can once again snow here anytime.
Temperature of Dalhousie
Here is the month wise average temperature break up:
Dalhousie in January – 1.2 to 9.8 degree Celsius; heavy woolen and warm clothes needed
Dalhousie in February – 3.1 to12.4 degree Celsius; heavy woolen and warm clothes needed
Dalhousie in March – 7.1 to 16.7 degree Celsius; snow begins to melt and the weather turns warmer
Dalhousie in April – 11.2 to 21.8 degree Celsius; pleasant weather
Dalhousie in May – 15.2 to 25.2 degree Celsius; pleasant weather, plenty of cottons with jacket
Dalhousie in June – 17.6 to 27.4 degree Celsius; pleasant weather, plenty of cottons with jacket
Dalhousie in July – 16.5 to 23.6 degree Celsius; monsoon season, waterproof everything and carry umbrellas and raincoats
Dalhousie in August – 16.2 to 22.6 degree Celsius; monsoon season, waterproof everything and carry umbrellas and raincoats
Dalhousie in September – 14.9 to 22.7 degree Celsius; this is the best time to visit Dalhousie
Dalhousie in October – 11 to 20.9 degree Celsius; winter starts to settle in towards the end of the month
Dalhousie in November – 7 to 17.5 degree Celsius; snowfall so heavy woolen and warm clothes needed
Dalhousie in December – 4.2 to 13.9 degree Celsius; snowfall so heavy woolen and warm clothes needed
Best time to visit Dalhousie
---
The months of April, May and June are vastly considered as the best time to visit Dalhousie because of the pleasant weather conditions. But you may want to avoid visiting in these months if you do not like crowded places. With summer vacations on in schools, a lot of families visit Dalhousie and the nearby town of Khajjiar at this time. The months of July, August, October, and November are the ones when there are only a handful of tourists around.
If you want to see a live snowfall, you should plan a visit between December 15th to January 30th but if you do not like cold weather in general, then you must avoid visiting between November to March. If you want to see lush green hills then you must visit in either July, August or September. But if rain bothers you, then it would be best to avoid July and August. November is a bad month to visit overall because the scenery at this time is a bit dull and dry. Weather will be very cold and there will not even be any snow around.
If you are traveling on a budget, then try planning in either July or August. As the number of tourists is less in these months, you may get a good deal at the hotels. In terms of photography, April, July, August, September, and October will be the best months to go. If you are into star gazing and stars photography, then best avoid traveling during monsoon season. For trekking, avoid January, February, July, and August.
Shopping & Foods to Try
---
What to Eat in Dalhousie
Dalhousie cuisine has an eclectic character. You will find dishes of Pahari, Nepali, Gurkha, Tibetan and English cuisines. No matter the origin, the food is usually simple, homely, nutritious and inexpensive. Much of the food is grown and consumed locally. In fact, if you ask for local dishes, it is likely that the rice, wheat, vegetables or fruits are freshly harvested from some local garden. The organic produce tastes more flavorful than anything you would find in a city grocery. Food imports are mostly made to satisfy tourist tastes.
Here are some typical dishes you will find here. These are just some dishes from a wide range of food to try in Dalhousie.
Chutagi
Skieu
Paba
Khambir
Momo
Thenktuk
Mokthuk
Thukpa
Chicken curry
Maggie
Egg dishes
Bhutta
Where to Eat in Dalhousie
Dalhousie offers several options to eat out – large restaurants in the Tibetan area, tiny hole in the wall shops, street stalls, roadside dhabas, and Maggie points. You can eat a different dish every day at every meal! However, if you have the opportunity to befriend a local, try authentic homemade Pahari fare. Beats the market offerings any day!
What to Buy in Dalhousie
Don't leave Dalhousie without shopping to your heart's content. Here are the Dalhousie's most famous shopping choices. The list can be long but these are some of the best options in terms of shopping in Dalhousie.
Handcrafted Woolens: Dresses, caps, pullovers, socks, scarves, shawls and mufflers. Special shout-out to Pashmina goodies.
Brass and wooden knickknacks: Statues, walking sticks, boxes of various sizes and home decor pieces.
Accessories: In the Tibetan shops, you can find some very trendy, quirky and unique footwear, bags, purses, and jewelry.
Souvenirs: Lampshades, prayer wheels, prayer flags, books and porcelain, singing bowls, Buddha statues, handmade diaries, rugs, carpets, and paintings, miniature paintings.
Tea: Tibetan tea, Green tea, and Kangra tea
Books: On Tibetan Buddhism, mythology, spirituality and Tibetan History
Places to shop in Dalhousie
Gandhi Chowk market is located a stone's throw away from the Central Bus Station. It's a bustling place, not only for shopping but also for its restaurants and eateries.
Timings – 9:00 AM to 7:00 PM
Come here for: Colorful and patterned scarves, mittens, shawls, sweaters, jackets, gloves, and caps all handcrafted and made of pure wool. You will also find Tibetan wall hangings, carvings, wooden sculptures, prayer flags and other Buddhist paraphernalia at the Tibetan Refugee Center. Also, unique items such as jewelry, bags, dolls, and purses can be found here.
Know Dalhousie
---
Fast Facts
Nearby Town(s) – Bakloh, Chowari, Dharwas, Khajjar, Pangi and Salooni
Population and density – Just above 7000 for locals, and a varying floating population of tourists and service providers during peak seasons
Religion – Majority Hinduism with a tiny presence of Tibetan Buddhists, Jains, Sikhs and Muslims
Dalhousie Altitude – About 6460 feet above sea level
Currency – INR
Important Numbers
Kangra (Gaggal) Airport – 0189 223 2374
Pathankot Airport – 0186 210 0044
Pathankot Railway Station – 0186-2251594
Why to visit Dalhousie
---
You should visit Dalhousie if you want to spend some time at a place that has plenty of tourist attractions, activities to keep you involved. But at the same time, it does not get too crowded. Dalhousie should be your destination if you want to spend a peaceful area without going too remote. It is easily accessible, has all the facilities that you will need as a tourist and will keep you connected so you can feel safe as well. In short, it is a perfect place for a family vacation as well as a fun trip with friends.